Second grade is a special year in the writing lives of children. They are growing up and able to write with greater facility and sophistication. The children are eager to be given important new challenges and proud of their growth and progress. 
The on-campus students just finished their first writing unit; narrative writing. They began the unit by generating and capturing ideas in their tiny topic notebook. One of the first things the students learned was how to bring their stories to life by adding action and dialogue. Then, as a class, we studied other authors and discussed why their books were so powerful. They learned from master writers like Jane Yolen (Owl Moon) and Angela Johnson (The Leaving Morning) about how to craft powerful pieces.  By carefully studying these books, the children learned how to convey emotion and hook their readers in their own writing. The students set writing goals and planned out how to make the most of their writing time. They learned about literary language as they added similes, alliteration, and onomatopoeia to their work. The class edited their work with their peers and learned how to give constructive feedback. We ended the unit by sharing our stories with our classmates at a publishing celebration.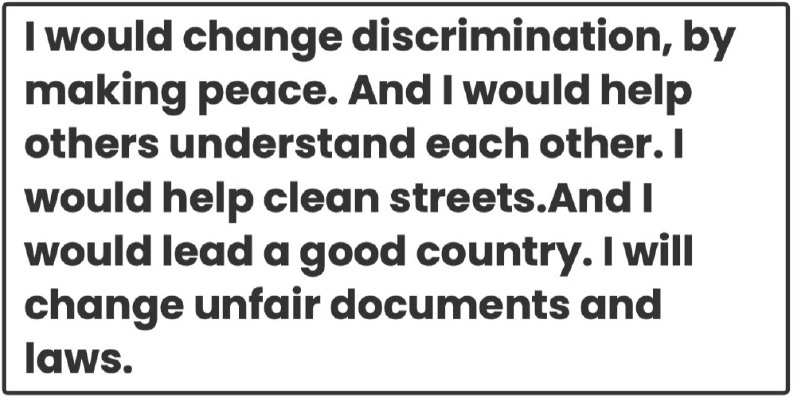 Second grade virtual learners have been working so hard!  Despite being in different learning spaces, we come together each day for a packed day of lessons, social gatherings, small group work, independent work, specials, read-a louds and fitness classes to provide food for children via Unicef.  The children have been working hard on the following:
*Small moments writing pieces
 *Rolling up their sleeves and learning strategies to become better readers
*Addition with regrouping
*Working in small groups for word study
*Handwriting lessons
*Learning about current events around the globe
 Most recently, the children had an opportunity to dress up for Project L.E.A.D.  The children proudly dressed up as favorite characters, authors, leaders, historical figures, superheroes and famous people.  It was such a treat to share all of these with each other!
The second graders have also had many discussions about the elections.  Our conversations centered around accepting differences, handling losses and wins gracefully, listening to others' perspectives and opinions and what it means to be a leader.  The children contributed to the conversations with such insight and maturity and made everyone in the class feel as if their voices were being heard.  You will see a few examples of some of the writing they did asking what they would do if they became President of the United States.
As the days become shorter and leaves begin to fall, we are excitedly looking ahead to the next few weeks of continued exploration and growth!