Kindergarteners are creating friendships, taking care of each other and their classroom, and learning to be responsible for their actions via the principles of Responsive Classroom.  Each day, several aspects of the Responsive Classroom are implemented to guide students towards being their best selves so that each student can learn at their optimal classroom setting.
Though seated apart, the tradition of engaging in the Responsive Classroom's morning meeting each day continues to provide the much-needed and desired emotional closeness that strengthens our kindergarten family.  Kindergarteners revel in their participation with the four-morning meeting components.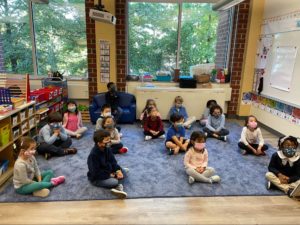 Each morning, kindergarteners greet each other and their teachers by name, practice public speaking by sharing an anecdote about their lives, participate in a teacher-led group activity, and listen to and/or read along with a morning message.
The greetings have been reimagined for distancing. Students may greet each other by bowing, waving, blowing kisses, linking feet, curtsying, winking or giving air high fives, for example, while saying "good morning" and using their classmate's name. This component helps the children to practice using eye contact and to speak in audible voices.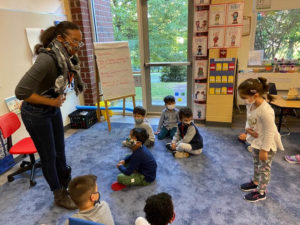 Kindergarteners have the opportunity to share something important in their lives during the morning meeting.  These times, more often than not, demonstrate the commonalities shared by the children and help others to have "me too" moments which further strengthen and enhance the friendship bonds already formed.  The sharing also helps to ease the transition between home and school.
The teacher-led activity is often an energizer that requires attentive listening and provides gross motor fun.  These activities may require non-verbal communication or a repetitive chant in which all children can feel safe to participate.  Two examples of group activities that have been introduced thus far include, "Just Like Me" where students jump up and affirm with a lively chant if the statement heard pertains to them and "Willaby Wallaby Woo" in which students listen for a nonsense word that rhymes with their name.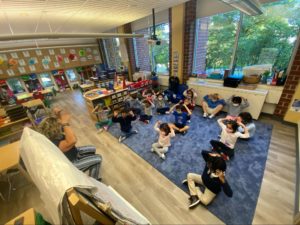 The final element of the morning meeting is the written message.  In the written message, students in kindergarten will expect to see the date, a glimpse of their schedule, and a question posed to all students.  The repetition of these elements are key components in literacy instruction as students begin to expect and recognize months, days, specials classes, and greetings in the salutation.  Alternately, when an element in the message is changed, that begins to be recognized as well. See below.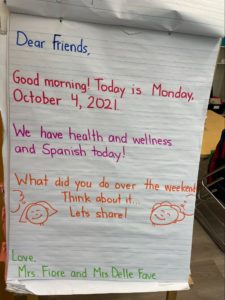 Another Responsive Classroom feature is the chime with its soothing tone. When the kindergarteners hear the chime, they know that their attention is needed. They show that they are ready to receive a message by stopping what they were attending to, turning to the teacher, raising two fingers in the air.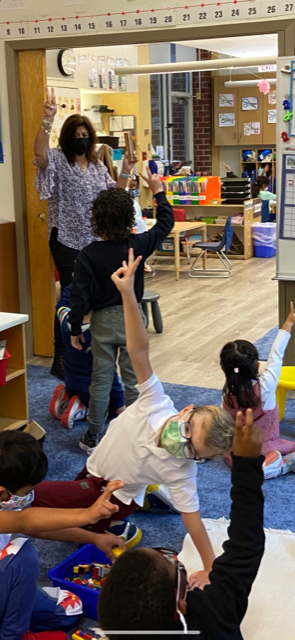 This practice teaches students to respect the speaker and to be active listeners.
The kindergarteners have created their own rules which highlight the behaviors expected of each other in the classroom. After brainstorming what should not be done, they then crafted positive statements for all to live by.  For example, "Don't hit" was transformed into "Keep your hands and feet to yourself".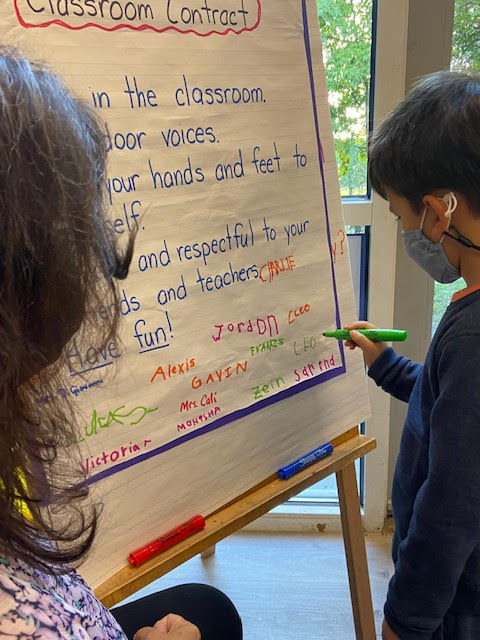 Each student and teacher ceremoniously signed the document which lives in each classroom for all to see.  In this Responsive Classroom feature, a sense of physical and emotional safety is established leading to classroom harmony and togetherness.