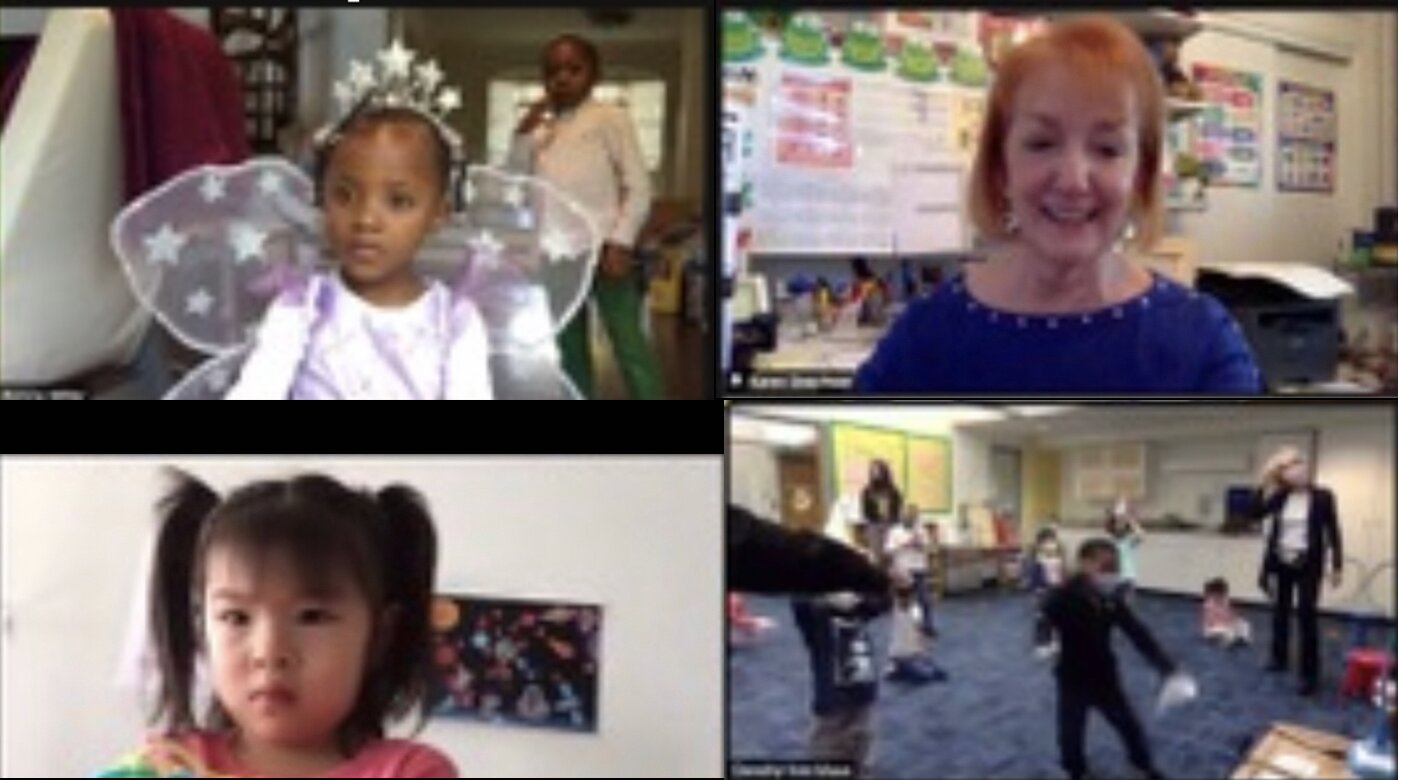 Early in the year, small children are learning how to learn. Teachers use positive, reinforcing language to highlight what children do well and to encourage next steps. They also tactically employ a variety of "energizers" to intentionally build joy and community. Moving and clapping to familiar games and rhymes are fun ways to encourage children to engage and connect to their on-campus and distance learning teachers and classmates. Joy, celebration, and a sense of belonging are hallmarks of the responsive classroom approach used in the Lower School.
Celebratory routines also help students develop listening and cooperative skills that are important for learning how to learn. Listening and cooperating skills develop best where there exist authentic bonds between the teachers and the students. Fortunately, strong connections can be formed on both the on-campus and on-line platforms. Like Mr. Rogers, teachers on zoom can talk directly to a child, using one-to-one audio & visual interactions through smiles, tone, and language to engage their students in ways that children respond to. Likewise, the on-campus community connection is developed gradually through intentional activities designed for that purpose. On both platforms, these energizing, playful activities foster friendships and also serve to reinforce academic and executive function skills. 
Recently, our Preschool 4 community gathered to celebrate the birthday of one of our on-line students. Zooming into the preschool 4 virtual classroom allowed all the children to greet the birthday friend, who wore a special crown for the special event. Donning the birthday hats they had decorated earlier, the 4-year olds on both sides of the shared screen played a loud and lively phonics review game and then danced in place with boundless energy to their favorite tunes.  The birthday girl's older brother joined in the game and in the dancing, prompting excited hellos from participants.  One enthusiastic little boy exclaimed, "This is the best birthday party EVER!" as he hopped and jumped on his carpet spot. His happy pronouncement reinforces our belief that joy and community can be intentionally developed to connect children and teachers to each other on both the virtual and on-site learning platforms.