What's Happening in First Grade?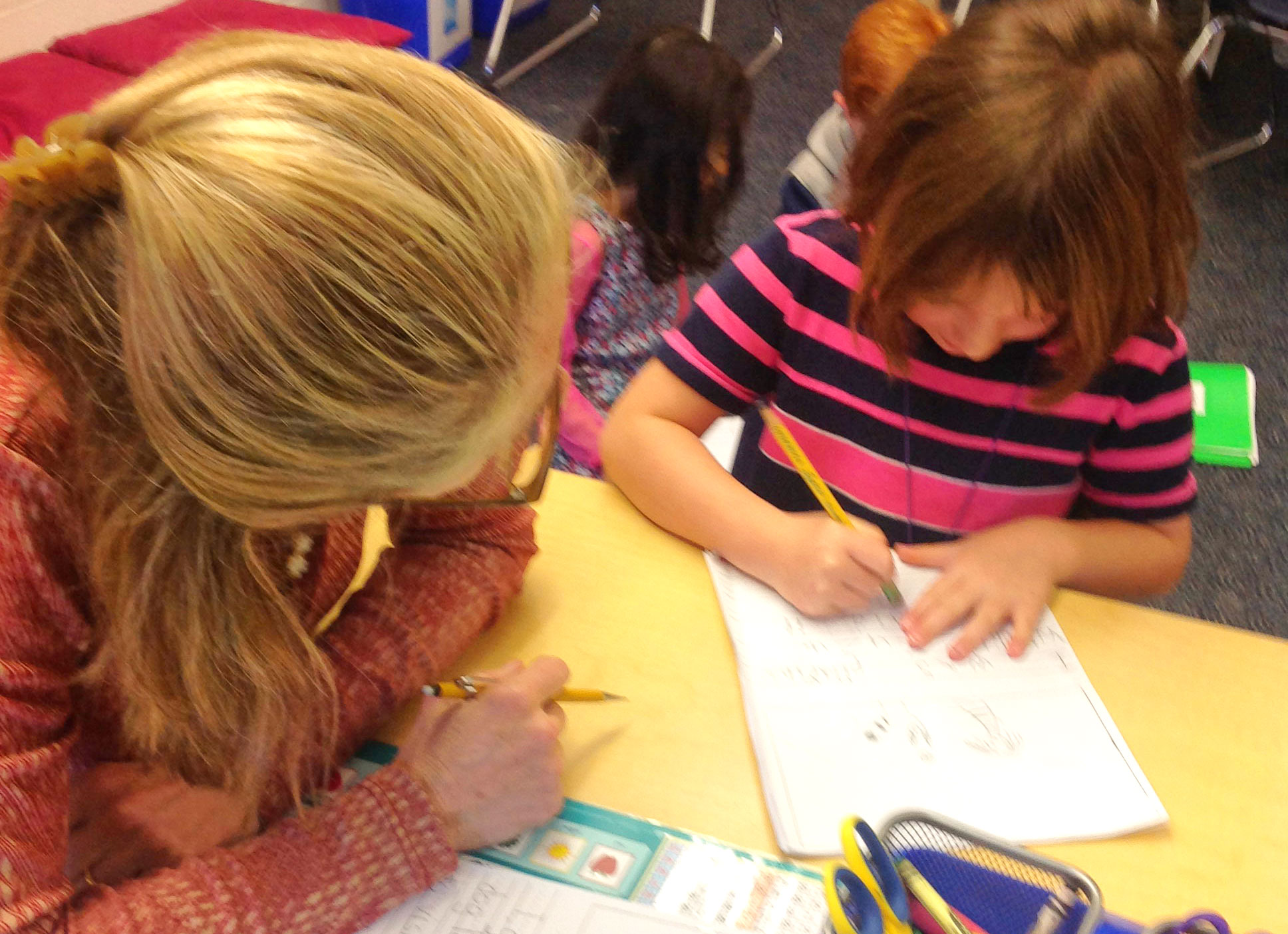 The Lower School faculty members that eagerly work with our D-E first graders have provided a glimpse into some of the work that they are doing in writing, music, wellness and technology.  The students are so busy that we will have to provide updates about art, math, reading, science and Spanish in the coming weeks.
Writing Workshop:
Once upon a time in a far off castle known as Dwight-Englewood, 30 first-grade princes and princesses were learning about fairytales in their classroom with Ms. Farrar, Mrs. Koteles and Mrs. Muus. They read magical stories during reading workshop where they discussed characters, problems and solutions, and the setting of stories. Then, their magical fairy teachers granted them magic of their own. But, instead of using wands, the children were given pencils. With these pencils the first-grade students began writing their own fairytale stories in writing workshop. Will the children finish their stories before the clock strikes 12:00? Well, as we have all learned, fairytales always have a happy ending and all the children will live happily ever after.  The first graders look forward to sharing their fairytales with each other and their families soon.
Music:
While exploring music with Mary Heveran throughout the first grade year, each month first graders are introduced to the lives of the famous composers.  They begin with Bach, Handel, Haydn, and Mozart.
Children at this age are very interested in what life was like for these composers when each of them was 5 or 6 or 7 years old.  Each month when a composer is featured we learn about the composers family life, interests, what instruments each played and whether or not the family encouraged music or thought it was not important.
Here are some interesting facts that the first graders learned.  Perhaps there is something listed that will be new information for you.
Were you aware that at age 9 Bach went to live with his older brother, since his parents had died?
Did you know that Handel's father did not want any music in the house and on the day that Handel played the march in church for the Duke of Weissenfels, the Duke insisted Handel study music.
Did you know that Haydn was expelled from the Boys Choir at St. Stephen's Cathedral only to eventually be asked to live in the palace at Esterhazy where he served as conductor for the orchestra?
Were you aware that Mozart could play clavier at age 3 and violin at age 6 without ever having had one single lesson?
Along with these interesting facts, children also listened to Toccata and Fugue written for organ by Bach, The Messiah written by Handel, Eine Kleine Nachtmusik by Mozart and a favorite- Surprise Symphony by Haydn.
Mary's hope is that by exposing children to these stories and music they too will be inspired to play and compose music and perhaps be the composers we read about someday.
Technology:
While working with Mrs. Nicolaou, the first graders have been experimenting with robotics and programming using Bee Bots. The children program these little robots using buttons that control the robot to move forward, backward and make turns. In addition to teaching sequencing, estimation and problem solving, they are also learning the fundamentals of coding. There is also a Bee Bot app that offers challenges that further expose the children to coding.
Why do we value introducing coding in first grade?  Coding empowers children and helps them understand what is behind the games and technology they will use in their life. It changes their perspective from passive consumers of technology to active problem solvers. Bee Bots are the perfect way to begin coding with young children.
This slideshow requires JavaScript.
Wellness:
While working with Mrs. Franco, the first grade has been discovering how to safely move and follow instructions during health and wellness class. They have been engaged in activities, tag games and challenges that include following directions, decision making, risk taking and cooperation.
They are also starting to utilize throwing, catching and defending skills in simple games and activities in preparation for the sport "Team Handball". First graders are also incorporating physical fitness activities and games in class in preparation for Fitness-Gram testing that will happen during the winter.