We Are Making A Difference!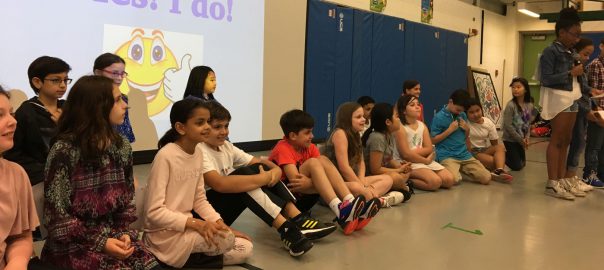 Submitted by Ms. Kanter and Ms. Sussman
It's been four years since the start of Third Graders Making a Difference, our curriculum for giving back, and the program continues to grow and flourish.  Students enthusiastically participate in each project while growing a greater appreciation for making a difference in the lives of others and the world.  In the last few months, we have been very busy doing just that!
In March Third Graders learned about the homeless and people who are having trouble paying for the things they need to survive – things like shampoo and soap.  We asked the whole Lower School to help with this collection and in the end, we collected 1,253 toiletries. We gave them to the Center for Food Action to give to families in need. Over the past four years, the Lower School has helped us to collect over 4,500 toiletries!
In April Third Graders worked to help the whole world.  First, we read about how plastic bags are bad for the environment.  After learning this, we wanted to make a difference not just in our lives, but in the lives of others.  So, we took what we learned in writing workshop and we wrote persuasive letters to people trying to convince them to use reusable canvas bags instead of plastic bags.  Then, we designed and decorated two canvas bags. We kept one for ourselves, and we gave the other to the person we wrote the persuasive letter to. This was our way of helping make a change so that people use less plastic and more canvas bags.
In May, we continued the long tradition of the used book sale.  We, once again, asked the Lower School to bring in their gently used books.  Then we held a sale where everyone could shop for great books at really good prices.  We raised over $2100! Even after making all that money we still had books leftover. The books will be donated to a school in Africa that doesn't have many books.  Over the past four years, not only have so many of us purchased great books, but we have raised a total of over $7,200!
This month's project was especially exciting because by this point, Third Graders had had learned so much about making a difference that they got to be in charge of where all the money would go.  First students chose a charity that was close to their hearts, then they did research on that charity. Next students wrote a persuasive speech about why they feel that charity should get the book sale money.
Here's an excerpt of what one student wrote for his persuasive speech…
Can you imagine life without sight?  Would you even know what to do? In an unprepared school, you would be stumbling, bumping into objects and other people and have no way to study reading.  Not so with the St. Joseph's School for the Blind.

St. Joseph's School for the Blind is a very charitable and welcoming organization.  They give without getting back anything except gratitude. We need to give something back to this organization that has done so much for people with visual impairments – the considerable proceeds of the Third Grade Used Book Sale.

This is where you come in.  You need to vote for St. Joseph's for the world to reap the full benefits of this generous nonprofit organization.  Additional funding could help St. Joseph's students access the community more easily and thoroughly and in turn, we could learn more about their lives and how we are connected.

Give people with visual impairments a proper education.  Vote for St. Joseph's School or the Blind!
Everyone in the grade and even some 4th graders came to our presentations.  Then everyone voted for the charity they thought the money should go to.  The votes have been tallied, and the money will go to The World Wildlife Fund and Hope for Paws—two worthwhile charities.
This year the Third Grade created a piece of art and poem to commemorate our year's work of making a difference. We're going to donate it to the Lower School, so we can all be reminded to make a difference every day.
Our year of giving was celebrated with an assembly on May 23rd.  Third Graders shared all they accomplished throughout the year.  Hoping their audience was inspired to make a difference over the summer, they announced this summer's call to action.  All Lower School families were asked to clean out their Halloween costume collection and bring any costumes they no longer need to school in September.  These costumes will be donated to the Bergen Family Center right here in Englewood. They will be able to provide a "pop-up shop" for families to get great costumes for free.
Not only were so many helped in so many ways this year, but Third Graders learned important, lifelong lessons.
Upon reflecting about the year, Lucy said, "From our work this year, I learned that you should always be thankful for what you have because a lot of people around the world don't have what you have."
Ade said, I learned that if you give a little bit, it will make a BIG difference in the world.
And Chelsea said, "A lesson I learned is that you're never too young to make a difference."
Thanks to all community members who supported our year-long efforts.  We all helped to Make a Difference!
This slideshow requires JavaScript.