Third Graders Making a Difference!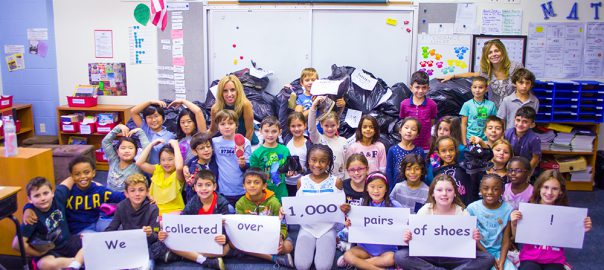 Third Graders Making a Difference is a year-long program created by third grade teachers, Ms. Kanter and Miss Sussmann. It is grounded in the spirit of kindness and how good it feels to help others. Now in its fourth year, third graders have demonstrated the tremendous power they wield in their small hands and big hearts, and how their actions can affect positive change around the world.
Toward the end of last year, the third grade decided to further boost the growing enthusiasm for this program and for helping others.  In May, at the annual Third Graders Making a Difference assembly, in which they celebrate all they have accomplished throughout the year, the third graders challenged the faculty and students of the entire Lower School to make a really big difference in a very special way.
Third grader Brandon, enthusiastically led the call to action for those in attendance with, "If you want to make a difference and change the world this summer, say 'Yes, I do!'"  Over 200 voices could be heard shouting, "Yes, I do!"  With the challenge accepted, Brandon announced the plan: During the summer, all members of the Lower School community would search their closets for shoes they no longer needed and bring them back to school in the fall. These shoes would then be donated to Soles4Souls, an organization that redistributes new and used shoes directly to people in need as well as to those who can use them to start a business and get back on their feet.
The plan then came to fruition this past September.  As students returned to school, so too did shoes of all sizes and types.  Each day it seemed the shoes were multiplying. To add to the growing excitement and influx of shoes, the family of third grader Sammy Cook supported the cause in a BIG way, by donating an SUV full of brand new shoes!  As the shoes came in, third graders sorted, counted, and bagged the shoes to prepare them to be donated to Soles4Souls. The hallways were soon lined with bags full of shoes.
As each pair of shoes was counted, a set of footprints was placed on the wall. These footprints will remain in the hallway for the remainder of the year to remind Lower School students of the tremendous "feat" they accomplished and the difference they made.  Third graders and the Lower School collected 1,133 pairs of shoes. The shoes will be distributed both within the United States and throughout the world.  They will even be helping victims of the recent hurricanes.
Third grader Lilli was particularly moved by this experience, "I feel it in my heart because I was thinking about all of those people that lost their homes and I hope this can make up for it a little bit." Now if that is not kicking the year off on the right foot, we don't know what is!