The True Test!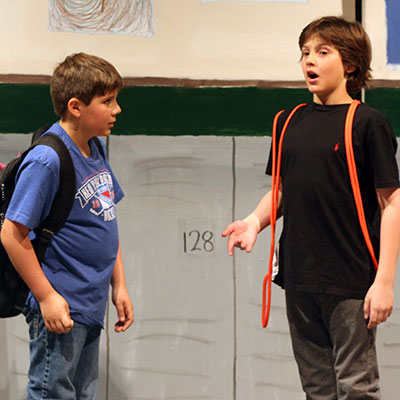 This year's opera, the 30th original opera, entitled "The True Test" is about the pressures that children feel today.
In the fall of this school year, the 5th graders shared the pressures they, as 10 and 11 year olds, feel in their young lives.  As children expressed their deep feelings about the concerns on their minds, they decided they needed to have "pressure" be their theme.
The pressures the students shared included:
Peer pressure; pressure to be popular; pressure to not only be on a sports team, but to be on the best team; parental pressure to get the best grade on tests; pressure to be in advanced classes; pressure to make their parents proud; and pressure to fit in so many after school activities that there does not seem enough time to just relax.
For the past "8 months", as fifth grader Mikey shared, the students have been responsible for every aspect of "The True Test" ranging from carpentry and set-design to composers and costume and make-up.  Please click here for the official press release created by Anya and Brooke.
Teachers Lisa Dove, Elisa Garcia, Mary Heveran and Erik Swanson have spent the full year working with the fifth graders on each aspect of the opera production.  When speaking with Mary Heveran about the theme of the 30th original opera she wanted to be sure to share the sentiment below:
"As I shared the theme of pressure for this year's opera with children in grades 1 through 4, there was an overwhelming response of children saying, 'Me Too!' about some of the pressures that the children are feeling.  I believe that the adults in their lives both at home and at school need to pay close attention to what the children are sharing."
Many more photos of this year's opera are available, taken by D-E Photography teacher Mr. John McCabe! To view and purchase these photos from this year's 5th Grade Original Opera performance, please go to: https://topcatphotos.smugmug.com/Theater/5th-Grade-Opera-2016/