The Lower School Celebrates Lunar New Year!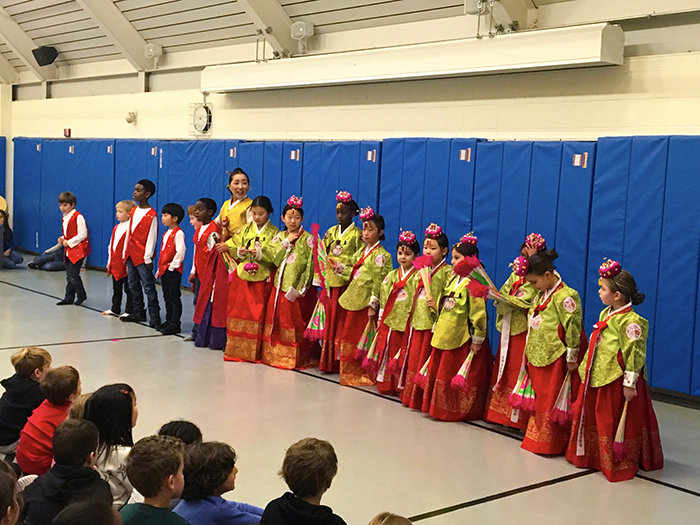 Experiencing the diversity of cultures represented within our school community helps us to gain appreciation and respect for our differences while also highlighting the characteristics and values that we have in common.
Lunar New Year celebrations began on Jan. 28th 2017 and have been observed in the Lower School in a variety of ways this year.  Several families shared vibrant and meaningful traditions associated with Lunar New Year celebrations.  Students in kindergarten and in grade 3 had an opportunity to create beautiful lanterns that are displayed in the classrooms.
The Chinese Affinity group hosted a lunch for faculty and staff complete with wonderful dishes and sweets.  They will also be sponsoring table tennis, also known as ping-pong, lessons, a national past time and sport in China, to students in grades 3 and 4 over the course of the next few weeks. Wang Chen, a world-ranking and Olympic level table tennis player, will lead the lessons.
The Korean Affinity group sponsored this years' Lunar New Year Assembly.  In preparation for this culturally rich assembly Lower School students took classes after school in either traditional Korean fan dancing or Korean drumming.  These dedicated students, ranging from kindergarten through fourth grade, worked hard for ten weeks to prepare for their performance in front of the Lower School. They astounded their classmates and teachers with their drumming skills and provided the Lower School with a taste of Korean culture.  Ms. Eunjoo Kang a world-renowned professional performer and instructor led them.
The student performances, coupled with the performance by Ms. Kang, made for a highly engaging Lower School assembly.