Students Eek out a Win Over the Adults!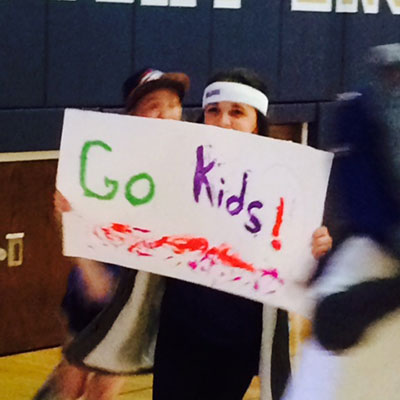 Submitted by Fifth-Grade Student Ben Labib with support from Susan Abramson
Once again it was the fifth-grade students' team, the same team who defeated the parents and teachers two years ago, and the year before that, and who in fact have never lost a game. This team once again defeated the adult team in last week's annual Fifth-Grade Students versus Teachers and Parents Basketball Game. But as always, the adults didn't make it easy.
It was definitely going to be a close game, this much was clear from the beginning as the adults demonstrated stealth passing, precision shooting and impregnable defense! "One of the best teams I've coached, and I've been coaching this game a long time," said Coach Erik Swanson.
But despite their talent, the adults were no match for the fifth graders who have been working and playing together since September. As classmates, teachers and parents cheered from the stands, the fifth- grade team racked up point after point, including some beauties from the three-point line! Passing and running up and down the court, they showed great teamwork and footwork, as well as the camaraderie that has been a hallmark of this group of students since the beginning.
With her team's win against the adults, Coach Kim Franco secured her own unique place in Lower School history as the most undefeated coach the school has seen. "It's amazing," she said, "it just feels like I am in the right place at the right time. I am very lucky to be part of a team that performs at this level."
As the clock ran down, the score was a tight 28 to 26 with the fifth-grade team in the lead. With ten second left, the adults had possession and the energy was tense. But a missed pass, and then an air ball meant they just couldn't wrap it up, and the fifth graders triumphed to the delight of all.
At the sound of the buzzer, kids and adults laughed, hugged and high-fived one another. And as if the game itself wasn't enough fun and filled with goodwill, it also raised over $700 for Frost Valley and Flat Rock Brook, two places that have been important parts of the fifth-grade experience.
Even as the players celebrated, they seemed aware that this wasn't the end. "The fourth-graders will win again next year," said one fifth-grade student as she walked off the court, "I know they can do it."