Ms. DeJesus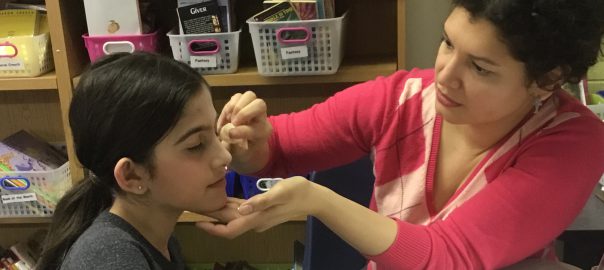 Although Ms. DeJesus joined us very recently, her work and impact is evident in our hallways and the smiles on the faces of the children as they go to and from Swartley Art Center for her classes.
Since she arrived in January the hallway displays showcase nightscapes, cherry blossoms and elephants perched on locker tops. Flexible and creative, she has worked with the kindergarten students and teachers to re-imagine the signature zoo project, and together they transformed the kindergarten classrooms into an art studio where students learned and practiced art technique and then brought the animals they studied to life. Kindergarten families will see their creations when they visit the kindergarten zoo next week!
A native New Yorker, Ms. DeJesus's professional career launched in 2001 when she and a group of friends animated the cartoon segment for the live action movie Super Troopers.  She went on to publish a series of graphic novels including a short comic featured in the young adult novel, Fan Art, and has shared this love with our students in her art classes, as well as in a popular ACE class she offered. Her teaching career is just launching, and we anticipate great things in her future. Her future art students will be very lucky to have her, and we are delighted she chose to spend time here with us at the Lower School.