Fifth Grade Fun at Frost Valley!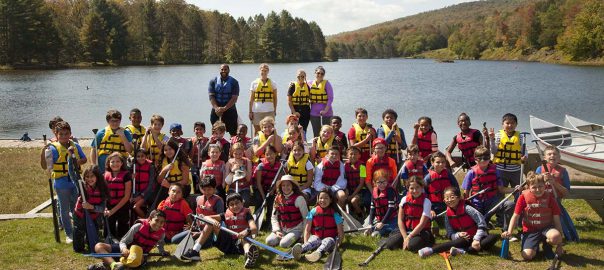 Last Tuesday afternoon a busload of happy fifth-grade students and their teachers returned to the Lower School from their overnight adventure to The Frost Valley Environmental Center in Claryville, NY.  A Lower School tradition, the trip is a wonderful opportunity to learn outside of the classroom, get to know one another and form bond with classmates and teacher that sustain the group throughout the year.
This year the hike was a particular favorite.  Crossing the cable bridges and making face paint by rubbing rocks took us back to a time of simple pleasures. Teambuilding activities led by the Frost Valley help children learn to communicate and collaborate with each other. No internet access means the group can focus on the beautiful setting and one another.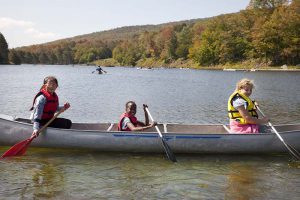 Reflecting back on the trip Samay shared, "My favorite activity was teambuilding because we could work as a team and make new friends."  Some children learned to boat for the first time on Lake Cole, and quickly learned that without teamwork the boat won't go very far!  The low ropes course was also a lot of fun.  Radha's favorite activity was the low ropes course because "we got to cross a lot of cables, and we had to trust each other to make it across."
After sunset the flashlights came out and students made their way to a special presentation from a herpetologist (snake and reptile specialist) where they oohed and ahhed over pythons, turtles and other animals we don't get to see everyday here at Dwight-Englewood.
It's tiring to be away from home and school for two full days, but so very worth it. For many students the trip to Frost Valley is a highlight of the year, and something they remember fondly for years to come.