Early Childhood Music program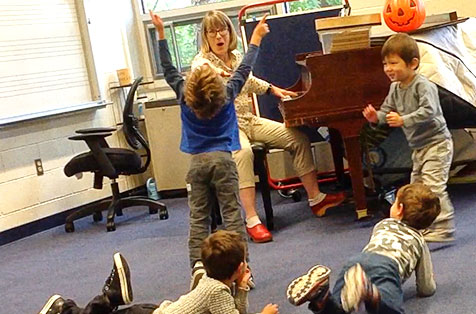 submitted by Lisa Dove
Enter the music room during an early childhood class, and you may spy giants tromping through the woods, or perhaps you might get caught up in a herd of galloping horses or unicorns. Then again, you may come upon a village of prancing elves or a field of floating butterflies.  The world of the Lower School music room is limited only by the imaginations of its students – which means, for students in preschool 3, preschool 4 and kindergarten, that it is limitless!
One may wonder why imaginative stories and pretend are the focus in the early childhood music classes.  For D-E's youngest learners, pretending is an immediate entry point to exploring different ways of moving their bodies in space – heavy and slow, light and quick, smooth and sustained.  The body is a child's first instrument.
Clapping, singing, tapping out a rhythm, dancing with a scarf, galloping a ternary time signature, are all ways a child uses the body to express music and musical movement. As children gain mastery over these physical responses, they develop a strong sense of rhythm and a greater sensitivity to musical nuances.  All of this is foundational for future music study, as well as for fostering a life-long joy with music.
Families – don't be surprised if a piece of music suddenly brings out a giant, an elf or a floating leaf; you may have a future composer in your home!