Bringing the River to Life!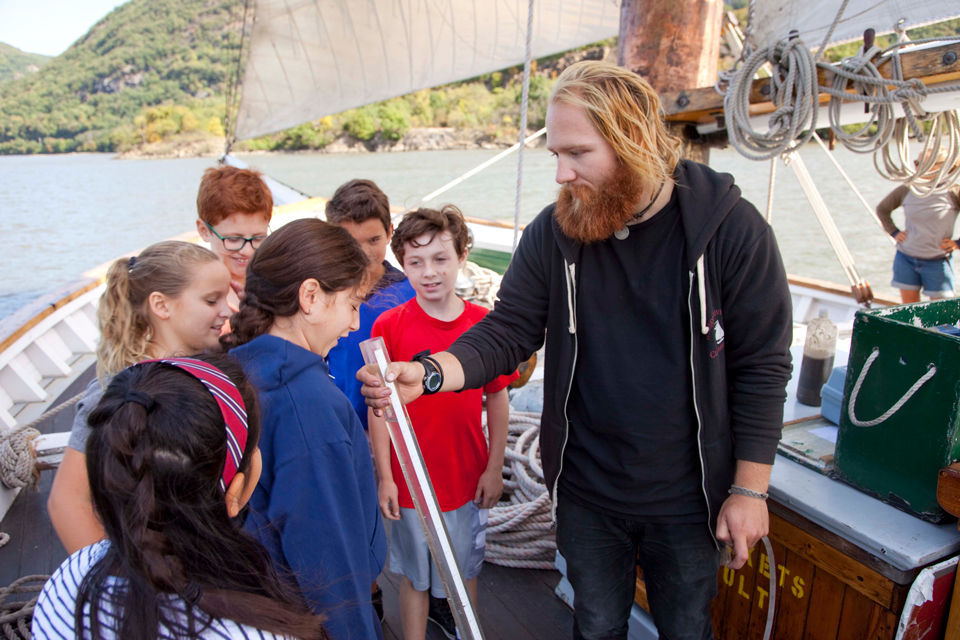 Submitted by Beth Lemire, Lower School Science Teacher
On Wednesday, September 21st, the fourth-grade classes took a trip on the Clearwater Sloop.  The sloop, a replica of those that sailed the Hudson River in the 18th and 19th centuries, was the work of (the late) Pete Seeger, musician and activist and his friends.
As we embarked on our Clearwater Sloop adventure, the excitement of the children was contagious!  We sailed from the dock in Cold Spring, New York, and slid quietly up the river a bit before starting the many lessons that were planned for us.  The children learned about turbidity of the water, fish species, art, and yes, they even learned some sea shanties!  They helped hoist the large sail and learned about living on the sloop from the onboard educators.
The purpose of this trip was not only to gain information about the Hudson River but also to allow students to experience the beauty and majesty of the river – to deepen their ecological consciousness.  It is hoped that this personal experience will eventually translate and transform them into adults with a profound understanding and connection to the river and the environment, being both skill-ready and heart-ready to be stewards of the earth.
According to the Children and Nature Network, A Report on the Movement to Reconnect Children to the Natural World,  (Charles, Lou, Bordner, Guns 2008),
Studies show that, almost to a person, conservationists or any adults with environmental awareness had some transcendent experience in nature when they were children. For some, the epiphanies took place in a national park; for others, in the clump of trees at the end of the cul-de-sac. But if experiences in nature are radically reduced for future generations, where will stewards of the Earth come from?
Perhaps for some the transcendent experience was our trip out on the Clearwater Sloop on a beautiful fall day!  Thank you, Pete Seeger, for having the forethought to look after our children and our planet.
Here's what some of our 4th graders had to say about this experience:
"The first thing we did was pull up a 3,000 pound sail! I didn't expect it to be that heavy!" – Lisa
"I'm glad I got to go to the Hudson River. I loved how free and adventurous we got to be and the view was divine! I got to see the beautiful mountains. It looked like they were in the clouds. Just to top it off the sun was so bright that it reflected on the river, and the river shimmered with joy!"  – Nikka
"I really feel very different about the Hudson River. I used to think the river was a trashy and dirty river, but now after the trip I think that the river is a beauty to see." – Brandon
"My favorite part of the trip was when we tested the water for turbidity." – Rik
"I think everybody should care about how clean the Hudson River is." – Alia