A Day of Remembrance: Celebrating Our Commonalities and Differences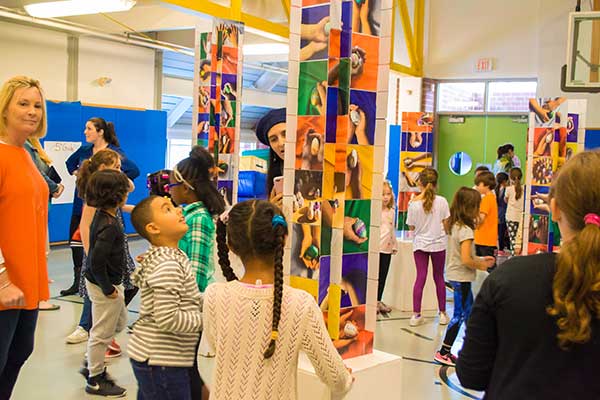 Submitted by Sophia Dorner on behalf of the Lower School Diversity Professional Learning Group (Ericka Collado, Madison Farrar, Ashley Gray, Sandra Harrison, Mary Heveran, and Jennifer Koteles)
"Peace cannot exist without justice, justice cannot exist without fairness, fairness cannot exist without development, development cannot exist without democracy, democracy cannot exist without respect for the identity and worth of cultures and peoples."

–Rigoberta Menchú Tum

Guatemalan Indigenous Rights Activist, 1990 UNESCO Prize for Peace Education, 1992 Nobel Peace Prize Winner; b. 1952*
How does one explain genocide to children who know only love? That was the charge of the teachers in the Lower School as we sought to become one with the Middle and Upper School during reflection and learning about Holocaust Remembrance Day. The Diversity Professional Learning Group under the incredible tutelage of principal, Kim Lewis, took hold of the challenge. Ms. Lewis brought artist, Maureen Bennett, on board to help bring our vision to life.
Maureen Bennett is a visual artist who works in oils, acrylics, pastels, graphite, mixed media and collage. As a community activist, Maureen created the global traveling art project known as "Peace by Piece." As a teaching artist and creative consultant at Mercy Center in the South Bronx, NYC, Maureen has been awarded numerous grants to support her use of art as a transformative force for social change. The work that she continues to design and implement through her creativity workshops particularly in areas of expression about poverty, violence, hunger, wellness and peace appealed to the vision of the Diversity Professional Learning Group.
We knew we wanted to have a day of remembrance that celebrated our commonalities and differences, and we also wanted the children to experience the value of the concepts of unity and peace. We began to brainstorm the best ways to make that happen considering our audience ranged in age from 3 to 12 years of age. We recognized the need to use a universal image and landed on eggs. We reached out to our colleagues, Lower School science teacher, Beth Lemire, and Middle School theater arts teacher, Carla Moriarty, who were able to assist us with obtaining fresh, organic eggs with varying colored shells. Each class was provided with 3 eggs that differed in color on the outside but when cracked appeared to be quite the same on the inside. Teachers read a range of stories to the students, depending upon particular grade-level clusters, that acknowledged differences among the characters while celebrating commonalities. The books that were read were: Whomever You Are by Mem Fox – Early Childhood; Sandwich Swap by Queen Rania Al-Abdullah – Grades 1 through 3; and The Sneeches by Dr. Seuss – Grades 4 and 5.
The next phase of celebrating our commonalities and differences extended our collaborations even more. We brought in resident art teacher, Elisa Garcia, to guide our students using a variety of artistic techniques as they decorated their very own wooden egg to depict their version of peace and love. Fourth-grade teacher Michael Rodenbush assisted artist, Maureen Bennett, in photographing each child's hands holding their decorated egg on top of a color-coded backdrop.  In addition, a group photo of all of the eggs for the grade was taken showing the children the unification of their class and grade level bringing it all back to unity and peace for us all. For the Diversity Professional Learning Group, it was important because this final concept hits home the idea of how we need to unify despite our differences to stamp out hate that leads to disharmony and hate crimes and atrocities like genocide.
After many hours of cutting, spraying and mounting, the beautiful photographs of the children's hands holding their eggs, were placed onto Giant Eames cards and stacked together in a variety of towers that were put on display in the Lower School gym on Wednesday, April 19th, transforming that space into a museum bathed in soft lighting.
To add to the experience, music teacher, Lisa Dove, provided audio featuring our early childhood students in grades preschool 3, preschool 4 and kindergarten, singing "Peace Like a River" as students and faculty moved throughout the display.  Thanks to David Viera from the tech department for providing just the right technical support needed and to Susan Abramson for her help and support throughout the project.
As students entered the exhibit, they walked along a pathway featuring their uniquely decorated wooden eggs.  After viewing the exhibit, they were asked to share some of their thoughts and feelings about the full experience from seeing the actual eggs, reading the story, designing their own wooden eggs and experiencing the exhibit.  Some of their responses are captured below:
Preschool 3: "I didn't make this one, but I like it!"
Preschool 4: "This makes me feel so excited!"
Kindergarten: "Each egg is beautiful in a different way."
First Grade: "I felt like I was in a new world."
Second Grade: "It reminded me that you can do anything that you put your mind to."
Third Grade: "It was really nice to see all of our eggs together.  It made me feel calm"
Fourth Grade: "This was way more than I expected.  I felt peace inside."
Fifth Grade: "It was inspiring and made me feel hopeful."
As one views some of the photos, it is important to note that each background color palette represents not only a grade level, but also a theme of peace taken from the PEACE flag.
RED – GRADE 5
On the Peace Flag – Red stands for courage.
Red chakra – grounding, security
DARK BLUE – GRADE 4
On the Peace Flag – Dark blue suggests pessimism, reminding us of less fortunate people in the world who are in need.
Blue chakra – intuition
ORANGE- GRADE 3
On the Peace Flag – Orange offers the vision of possibilities.
Orange chakra – emotions
GREEN – GRADE 2
On the Peace Flag – Green represents growth.
Green chakra – love, hope, compassion
PURPLE- GRADE 1
On the Peace Flag – Purple is the color of warmth, beauty and friendship.
Purple chakra – understanding, enlightenment
SKY BLUE – GRADE K
On the Peace Flag – Sky blue suggests far horizons, the need to provide education and help to unfortunate people and to strive towards global unity.
Sky Blue – creativity, communication
YELLOW – PK3 & PK4
On the Peace Flag – Yellow represents the challenge that green has kindled.
Yellow chakra – energy, desire
It is our hope that this project will serve as an anchor for future discussions in the Lower School that seek to foster understanding across difference.
We hope that parents will be able to view this exhibit while it is on display in the Art Gallery in Swartley Gallery from May 2 through May 5. Click here for details.
 For now, please enjoy photos from this memorable display: click here or click on the "Day of Remembrance"  album in the Gallery tab above. 
*20 Quotes Praising Cultural Diversity, University of Florida International Center