2nd Graders meet Canine Companions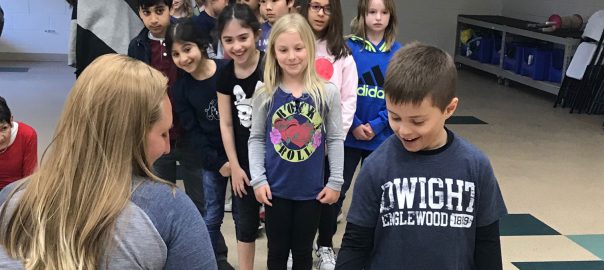 Submitted by Marina Byrne and Jennifer Koteles
Seven years ago, D-E second graders began their community service journey with CCI (Canine Companions for Independence). Founded in 1975, Canine Companions for Independence® is a non-profit organization that "enhances the lives of people with disabilities by providing highly trained assistance dogs and ongoing support to ensure quality partnerships."
We were first introduced to this wonderful organization through a partnership with D-E's neighbor, Caryl Swain, who is a puppy raiser for CCI. As part of our study of communities, we invited Caryl to come and speak to us about what she does.
Fast forward seven years later as our current second graders continue the tradition of learning about CCI. Caryl paid us a visit several weeks ago to explain what she does as a volunteer and introduced us to her dogs, Forest and Andy. Caryl has a new puppy that is 8 weeks old named, Swain. It was named in her honor by CCI as the 10th puppy she has raised. Before the break, we had a Read-a-Thon and raised $919.15! With this money, we purchased items from the CCI wish list on Amazon.
On April 5th, the second graders took a trip to Medford, Long Island to visit the facilities where the puppies continue their training before being matched with families. We had the opportunity to see dogs at work, visit the doggy playground, speak to a veterinarian and ask lots of questions. The children were so proud to give CCI their donations and to see where Caryl's puppies continue their training. Thank you to all the families who helped us with this wonderful service project, and we look forward to continuing this second grade tradition for many more years!